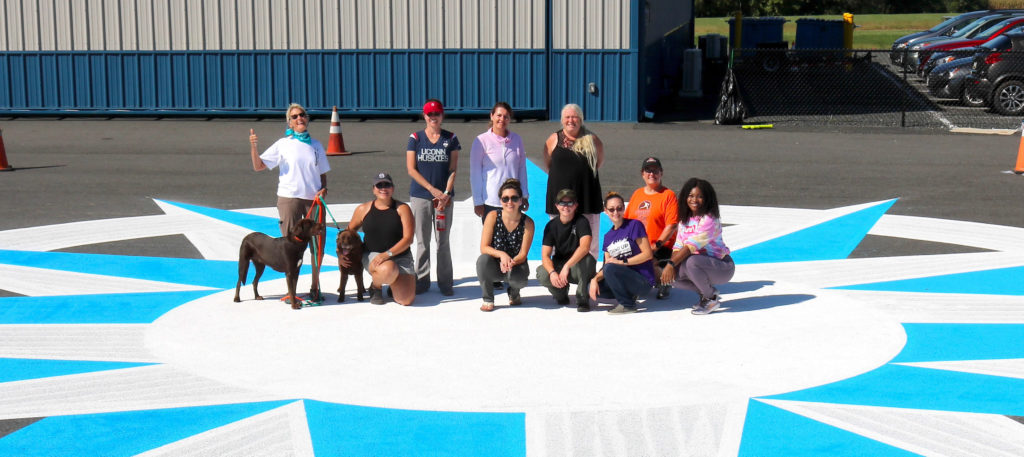 CHURCHVILLE — The Maryland Ninety-Nines are proud to announce a brand new 80-foot Compass Rose at Harford County Airport, in Churchville, Maryland painted on September 24 and September 25. "We are pleased to once again be able to provide a service to the aviation community by painting a compass rose at Harford County Airport. It was exciting to finally be able to get together after many months of separation due to the pandemic and give back to our aviation community. It was a great outdoor event for us all." said Jane Toskes, Chair. "I loved seeing our chapter come together to do something that's a lot of hard work but so satisfying in the end!" Sophia Dengo, Vice-Chair.
In keeping with a long-standing 99s tradition, the Maryland Chapter painted a compass rose on 0W3's property. "The last compass rose we had painted was by the Ninety-Nines in the '80s. Harford County Airport is thrilled to have the Maryland Ninety-Nines paint a new compass rose." Said airport owner, Kevin Hess. The paint was generously donated by Dan Blair, from Blair Painting and Contracting Co., "We were happy to donate paint for this project to an awesome organization of very talented ladies from all walks of life that share my passion for aviation!"
Compass roses or wind stars are traditionally used at airports to help pilots orient or verify the accuracy of their onboard navigational equipment. During World War II, reverse air-marking efforts were undertaken by The Ninety-Nines and the Bureau of Air Commerce to blackout the previously marked airports and airways to prevent enemy planes from spotting airports for bombing or sabotage. Although airmarking is no longer government-sponsored, The Ninety-Nines carry on the tradition of fulfilling the need for airmarking by volunteering their time to help paint airport names and radio frequencies, compass rose symbols, and other needed identifiers. Some of the letters painted can be 50 feet tall and compass roses average 80 feet in diameter.
The day was also celebrated by introducing more women to aviation in the community. Baltimore Ravens Playmakers came as special guests. All five were treated to their first time flying in a small plane and each had private flights over Harford County. "We thoroughly enjoyed meeting and speaking with the various pilots and learning more about each of their individual journeys! Aside from speaking with the pilots, we were even treated to individual private flights to take in beautiful views of Harford County! We are so honored we are some of the first to see the painted compass rose, which turned out so beautiful!" said Lauren Messina Coordinator of the Ravens Playmakers. It wasn't the only celebration of firsts that day, we also had a Maryland 99s member, Aish Shrestha flew her first solo on Saturday morning. Aish told us, "It was amazing I soloed on Girls in Aviation Day, my CFI's birthday, and afterward painted a compass rose! September 25 is my new favorite day!"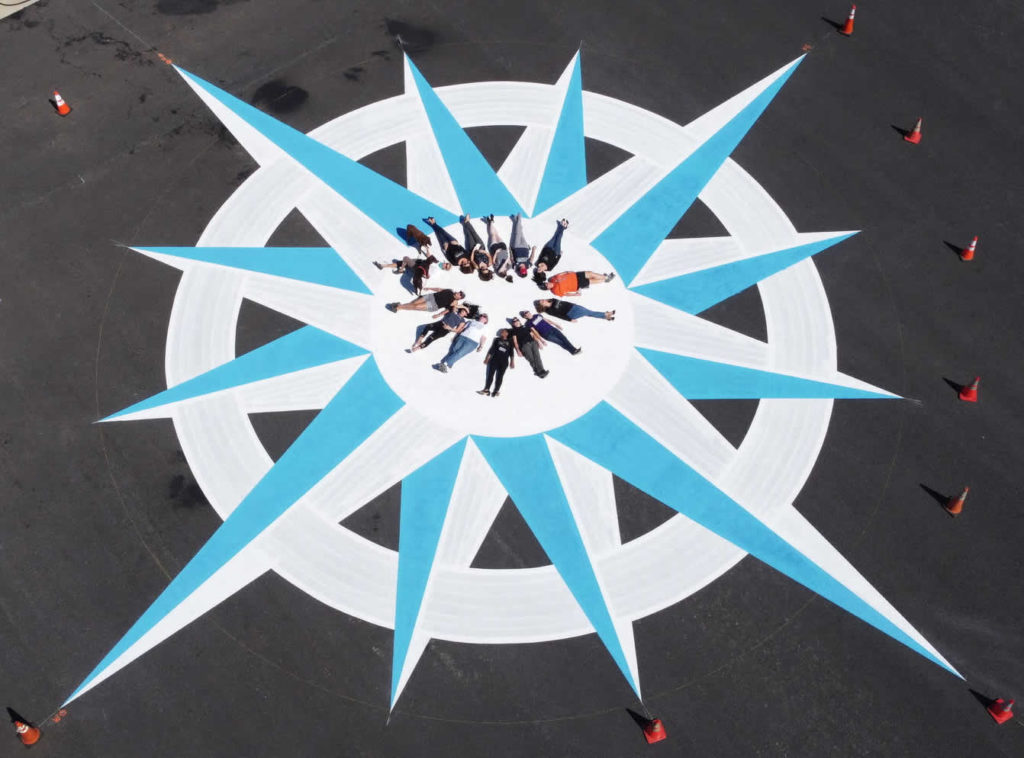 "Being a part of this sisterhood is so special and it means so much to all of us to share our love of aviation with our community. We enjoyed having the local community attend and as a Baltimore Ravens Playmaker Alumni it was so special having the 2021 squad attend and each has private flights over the new compass rose and fall in love with aviation!" said Shannon O'Brien, Public Relations Chair. One of the Maryland 99s members who flys out of Harford County Airport said, "'0W3 has such a great community of pilots, it was really cool to see them unite with the Maryland 99s to create a beautiful piece of history!" Stephanie Baynes.
The Ninety-Nines Inc., International Organization of Women Pilots was established in 1929 by 99 women pilots and Amelia Earhart. They continue the mission to share and celebrate women in all areas of aviation today and promote the advancement of aviation through education and scholarships. The Maryland chapter includes everyone from brand-new student pilots to women who have been flying for decades, from all over Maryland. They meet once a month near Baltimore to encourage each other, share their passion for flight, and to quote Amelia, fly "for the fun of it!"
The Maryland Chapter of The Ninety-Nines is based at Essex Skypark Airport in Essex and meets on the second Saturday of each month at the airport at 10:00 a.m.
-by Shannon O'Brien
Photo Gallery